READ BEFORE EDITING THE MAIN PAGE.
ONLY CHARACTERS THAT APPEAR IN THE RAILWAY SERIES, FILMS OR TV SERIES ARE ALLOWED HERE AND CHARACTERS THAT DON'T CHANGE HISTORY OF REAL PEOPLE, PLACES, RAILWAYS, EXT.  ENGINES THAT APPEAR IN THE RAILWAY SERIES, FILMS OR TV SERIES CAN'T DIE. USERS WHO DISOBEY THESE RULES WILL GET ONE WARNING AND PAGE WILL BE EDITED OR DELETED. SECOND, USER WILL BE BLOCKED.
TTTE FANON
Welcome to TTTEFanon
Welcome to TTTEFanon (Thomas The Tank Engine Fanon) which is for fans to say their ideas of Thomas and Friends and related articles(This is much like TUGSFanon) .
14:06-02-20-2020
To create a character or story, just enter the article title in the box below. Just make sure the article is about characters of Sodor and their's friends/relatives.
A Notice
We have had little to no activity on this wiki for weeks. I encourage all users to drop by and contribute an article or two. Also, I would recommend users to try to recruit new users on sites like Sodor Island Forums, or other other wikis. RailTUg 16:47, October 25, 2010 (UTC)
This is another message. To all unregistered contributors, we appreciate your pages, but please sign up for a username. Edward Rankin 18:51, December 31, 2010 (UTC)
Character Poll
What kind of steam engine should this "Group-made Character" be?
When we have all the info we need leave a message on my talk page for a name for this character.
Currently known info- -Steam Engine
P.S. This will be the first "Group-made Character" and also won't be the last. Each Question will be here for around a week.
Nevillefan17 23:24, July 7, 2010 (UTC)
Categories
External Links
Sister Sites

http://tugs.wikia.com/wiki/Main_Page
http://tugsfanon.wikia.com/wiki/TUGS_Fanon
http://ttte.wikia.com/wiki/Thomas_%26_Friends
http://ttfanon.wikia.com/wiki/Theodore_Tugboat_Fanon_Wiki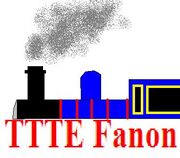 Community content is available under
CC-BY-SA
unless otherwise noted.